RNA Collection and Room Temperature Preservation
iSWAB-RNAv2: Non-invasive RNA Collection and RNA Preservation at Room Temperature
Maintaining RNA stability and protecting it from degradation is a significant challenge. Current RNA stabilization methods such as PAXgene, Tempus, RNAgard or dry blood spots all require invasive blood collection resulting in low compliance because of very limited shelf life which requires immediate sample processing and the need to invest in cold storage infrastructure. Non-invasive RNA collection traditionally suffers from low quality RNA as well as short shelf life storage.
MAWI´s iSWAB-RNAv2  device is the solution: It allows for the non-invasive collection, concentration, and stabilization of intact buccal cells and/or any mammalian cells collected with a swab or cytobrush and real time ambient stabilization of Total RNA from the point of collection to processing.
The iSWAB-RNA Collection and RNA Preservation Device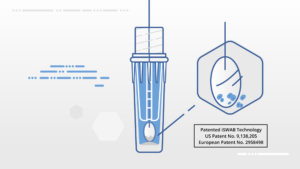 The unique and patented design of Mawi's iSWAB-RNAv2 tubes enables mechanistic release of cells into a proprietary lysis and stabilization buffer, resulting in the recovery of nearly all cells from single or several swabs. iSWAB™ tubes are designed to facilitate collection, sample concentration, transport, extraction, and long term storage at room temperature, all in a single tube. Swabs are discarded after collection and do not need to be included when shipping the sample. The iSWAB-RNAv2 tubes are suitable for either manual or automated RNA preparation.
iSWAB-RNAv2 Kits and Tube Racks for RNA  Collection and RNA Preservation
The system is available in kit format and as tube racks and enables the preservation of mammalian RNA at ambient temperature for weeks.